NP-7448!
Items-Warriors Round Shield, Bacon and Broccoli Omelette, Strawberry Jelly, Neo Crackers, Yellow Blumaroo Keyring, Rainbow Sand, Eye Candy, Old Rotten Right Boot, Breadfish, Grey Sea Fern, Cartography for Beginners.
Fortune-You will mistakenly crush vast riches in Faerieland.
Health/points- Coltzan's Shrine gave my Aisha a level, Healing springs filled her little tummy up and "restored her hit points" which of course means they actually go down as they were higher than the maximum..., fishing skill point for my Blumaroo,
Lab Ray: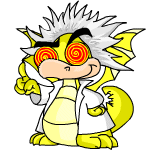 Hee hee hee!
The ray is fired at hfj1143316262254...
... and she gains 2 movement points!!!!
Petpet Lab Ray:

Nothing
looks
different about
Tumbles
but you can sense something happened. It becomes evident later when it tries to climb a tree but breaks off the branch instead. The ray has increased its level to:
2
Tomorrow may see another boost if you're brave enough to risk it.