The Mystery Island Mystic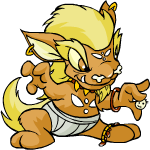 Welcome to my little hut. Ahh, I guess you came here to have your fortune told, eh? Well... here it is...
You will defeat in single combat a trio of gigantic Kyries.
Something Has Happened!
You are now eligible to use 'Island Mystic' as an avatar on the NeoBoards!
Remember to come back tomorrow!!!
I've been visiting here as part of my dailies for...months? :-) So it was a Merry Christmas present from the Neopets Team. Now I don't have to anymore.
Hope you all are having a happy Christmas as well!